How do you ignite innovation?
The way you ignite innovation is to connect innovators with that "right person".
And then do it again. And again. And again.That's what we're doing starting today.
Fact: 20 minutes with the right person can save you weeks, months, perhaps even years of time.
Walnut St. Labs and the ideas x innovation network (i2n) have partnered together to create an easy way to make the right connections happen, propel projects and accelerate forward progression in our region.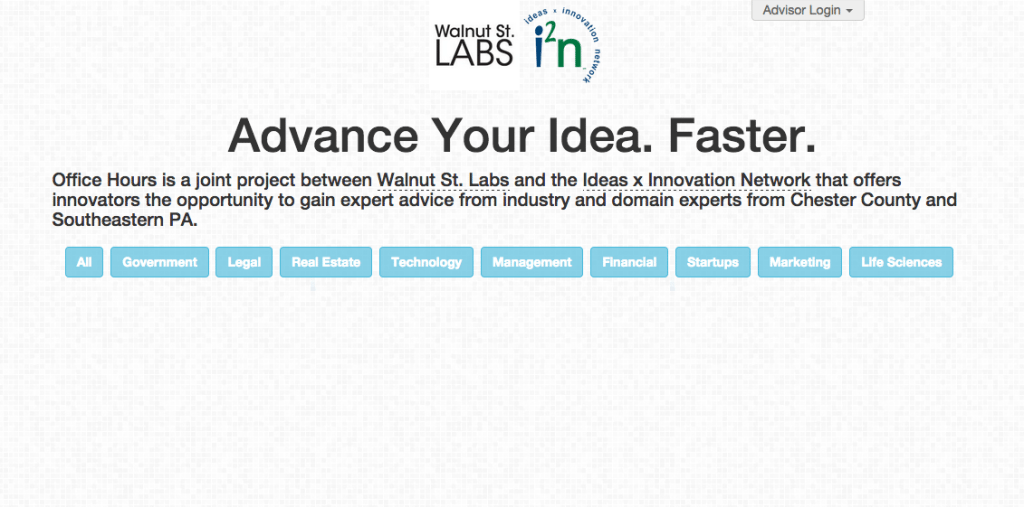 "I"ve met with Chris a couple of times to discuss go-to-market strategies and business models for my startup. Not only did he provide practical advice around basic startup worries such as domain names and getting your first customer, but he also pushed my strategic thinking, encouraging me to think outside the box in terms of building out an expert marketplace. I'd definitely reach out to Chris again. He's a great thought partner."
– Asha Rangaraj, Founder of ResearchMole
So What Is Office Hours
Office Hours connects innovators with Innovation Advisors for face-to-face networking and advisement at three locations in the Greater Chester County area. Innovation Advisors are domain experts from the region who are willing to offer advisement for free. Here are the areas of expertise we have so far.
Government
Legal
Real Estate
Technology
Management
Financial
Startups
Marketing
Life Sciences
And here are the advisors we have for our launch.
Interested in becoming an Innovation Advisor?
Chris Dima
Kevin Fleming
Mary Fuchs
Dave Mann
Terry Kerwin
Raymond Sarnacki
Craig Schroeder
Eamon Gallagher
Mark Rybarczyk
Stacy Martin
Paul Prestia
Denise Smart
Wilson Chu
Lars Knutsen
Jim Lauckner
Leo Daiuto
Ben Bock
Jim O'Brien
Ilya Lehrman
David Chopko
Guy Fardone
Clay Zug
James Watkins
Andrew Brenner