@brandonhilkert
FunnelOptimizer.io
What is Funnel Optimizer?
Funnel Optimizer is a monthly subscription service to help bloggers provide more value to their audience and sell more of their products by offering subscribers access to new content and discounts, rather than showing them the same subscription forms.
Funnel Optimizer alters what the user sees, based on each individual's level of involvement.
The current funnel looks like this:


And, with Funnel Optmizer:



Why did you create it?
Six months ago, I released a book called 'How to Build a Ruby Gem' that resulted in $16k+ in sales, so far. My Multilevel marketing approach, and a niche target population of ruby developers contributed to my book's success. But, I also believe that choosing to capture emails on my blog and posting gem-related content regularly seemed like a good way to grow interest, offer subscribers additional incentives like discounts, and ultimately sell more books.
In the process, I observed that my previously subscribed readers to my newsletter STILL saw the same newsletter opt-in form shown above. I thought to myself, 'Why on Earth would that be helpful to the them?' It prevented me from offering previously subscribed users to new offers and stifled the opportunity to sell my products.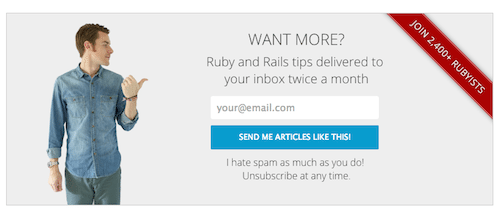 Traditionally, the way to solve this pain point was to purchase a fancy marketing automation system and pay potentially 4 figures a month. So, I decided to build a solution that would be more accessible for people like myself. Ideally, what I wanted was to show my first visitor the opt-in form above, and if they signed up, promote my book. It was a choice to consider my viewership by customizing their experience and provide them access to new offerings.

What's next for Funnel Optimizer?
The next step for Funnel Optimizer is to develop a full payment processing system on my site, FunnelOptimizer.io , So when people sign up they can instantly use it. Im currently operating under a somewhat slower on-boarding approach, and now Im ready to put the power in their hands!