Our Press Releases are Really Paying Off!
After sending out a couple of press releases, we received a decidedly smaller  percentage of feedback than expected. Unfazed, we followed up with those individuals and organizations that expressed  the most genuine interest.
State Rep. Chris Ross was kind enough to sent a conference call to discuss that growth we've seen since launching the coworking space, and now the incubator. He outlined his own insights and gave us a number of leads within the local political sphere that he thought might expand our reach.
Rep. Ross also mentioned that West Chester was Rep. Dan Truitt's locale and admitted that "we can become pretty territorial over these sorts of things". Regardless if Rep. Ross was a kindly passing off the torch or an actually frightened by what Dan's response would be, we were nonetheless grateful for the referral.
Before I could followup with Dan's Offices, I received an email from his assistant, Matthew. We ping-ponged our differing availability and settled on an acceptable google calendar event, as is customary in this day and age.
Wednesday came around and I rushed to vacuum both floors, scrub the bathroom floor and perform other domestic duties, all the things your supposed to do before a State Rep.visits your incubator. Henry was kind enough to make a pot of coffee before I showed up, so that was covered, but I was concerned that Dan was going to show up before I was able to eradicate all the dog hair that Luna (our WSL mascot) bestowed on us the week before.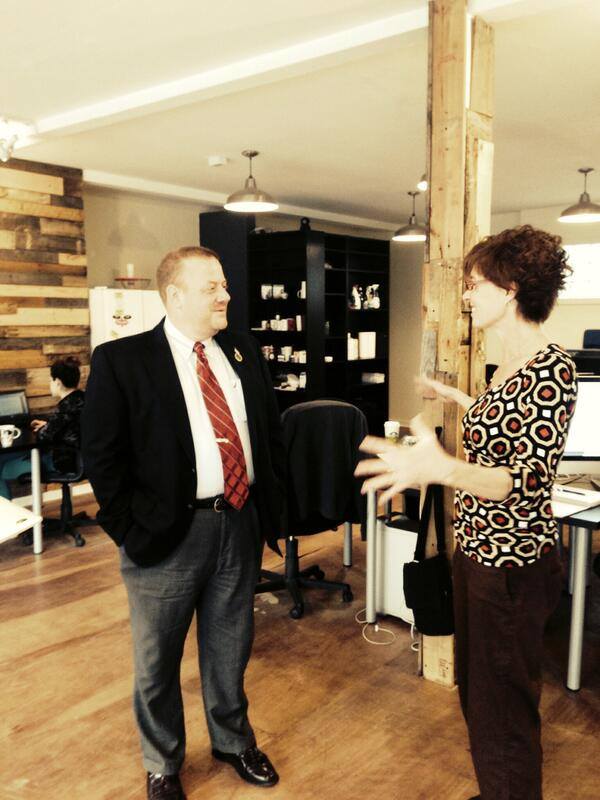 Dan walked in and we rushed the door to shake his hand and welcome him to our space. Thankfully the vacuum was well tucked away by this time. I offered him some coffee and we migrated to the basement, where all the truly serious discussions take place.
We sat down and I tried my best keep quite while Chris and Kevin began to explain our mission statement and intersectional business model. I was able to squeak through some thoughts, but I tried soak it all up and let Chris and Kevin do the talking. It was difficult for me to keep a lid on it. What can I say, passionate elevator speeches are a cornerstone at  incubators, and Walnut St. Labs is no exception.
Chris drew up the three main facets of our business on the white board and explained how collaboration feeds into the intersection of each facet. We reviewed our recent impact on the community and our ultimate goal to create jobs.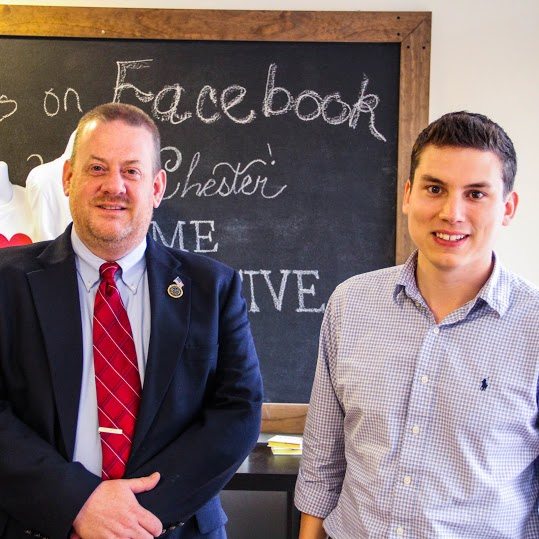 I could tell the more Dan understood about our community and people-centered model, the more engaged he became. It was cool to see him get excited about the things that we really care about. He shared how the government has moved jobs from state to state to create the appearance of news job, without actually creating new jobs. He also mentioned that our facilities would have help him when he was starting up his business in the 90's.
We came out of the meeting feeling encouraged that his interest will translate into a longstanding relationship. We've gained another perspective from a political leader with enough professional experience and expertise to truly appreciate what were building here. Each person we've had the pleasure  of meeting and speaking with has expanded our scope, which has contributed to overall growth, and we're super grateful for that.