Brad Miller Presents MongoSluice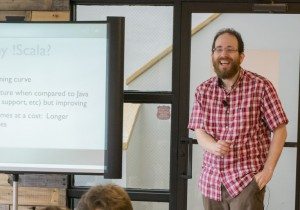 Our Startup Meetup this week was perhaps the most technically stimulating event that we have hosted. Brad Miller has devote the vast majority of his free time to developing MongoSluice, a software tool developed to accelerate the rate of streamed data between MongoDB and traditional relational database systems.
"The tool (MongoSluice) solves the problems most enterprise developers face: how to pull insight from giant datasets stored in Mongo quickly and reliably — without building disposable one-off solutions."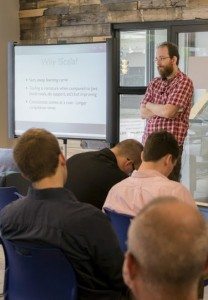 "MongoSluice will maintain the relational integrity of nested MongoDB data, such as nested Mongo objects and arrays. Its compatible with all RDBMS systems with a JDBC drivers, including MySQL, MariaDB, Oracle, SQL Server, Netezza, and Postgres"
"Upcoming feature enhancements include a programmatic API to define complex extraction processes, and a concurrency framework for increased speed and efficiency of exporting. This will allow the end user to build complex nested structures using database queries and export those structures directly into MongoDB"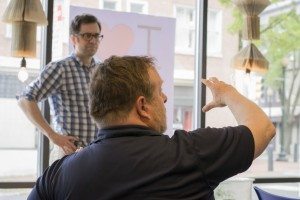 Despite all the time and effort, that Brad has put into his project, he was able to gain some nuanced and valuable insights from the audience.
It was inspiring to see that even during our more formal talks, we have established an comfortable and conversational environment.  We encourage open discussions of  ideas, sparking passionate debates used to strengthened and expand each speakers projects. It is our hope that these talks are mutually beneficial to our audience, as well as our speaker.