i2n awards microgrant funding to Walnut St. Labs, an innovation lab in downtown West Chester, PA.
i2n is an initiative of the Chester County Economic Development Council
EDITORS: The following information is for immediate release. If you have any questions, please contact Kevin Fleming, Managing Partner of Walnut St. Labs, at 484.888.0619.
WEST CHESTER_The Ideas x Innovation Network (i2n) awarded Walnut St. Labs with $11,600 in microgrant funding through the Pennsylvania Department of Community and Economic Development's Discovered in PA, Developed in PA (D2PA) program.
The grant is designed to help Walnut St. Labs expand its facility as well as events and activities that promote entrepreneurship and local early-stage companies. The funding was award to Walnut St. Labs after review and consideration of the i2n board.
"Walnut St. Labs just opened in November of 2013, but the group has shown the ability to quickly create a strong community focused on innovation and entrepreneurship, which fits well with the mission of i2n," said Mary Fuchs, senior consultant for i2n who helped develop the grant and is working closely with the managers of the lab. "The lab's location — in the heart of downtown West Chester and its proximity to West Chester University – is key not only for visibility with the community, but also for expanding i2n's network of physical and virtual resources for emerging growth companies."
Ideas x Innovation (i2n), an initiative of the Chester County Economic Development Council, supports emerging growth businesses throughout their entire life cycle by leveraging the assets of academic institutions and other partners to create a network of physical and virtual resources. i2n is funded in part by private sector support, educational partners, and the Pennsylvania Department of Community and Economic Development's Discovered in PA, Developed in PA (D2PA) program, which enabled i2n to provide the microgrant to Walnut St. Labs.
D2PA was established by Governor Tom Corbett in 2011 to build capacity to support Pennsylvania businesses and to spur creativity and innovation in the provision of economic development services. Last fiscal year, the D2PA program supported initiatives tied to growing the life sciences, advanced manufacturing, business incubators, and education, workforce and economic opportunity collaborations.
Walnut St. Labs hosts a weekly speaker series which is in partnership with West Chester University's Dr. Edwin Cottrell Entrepreneurial Leadership Center.
Chris Dima, Founder of Walnut St. Labs, said, "Our events have grown fast, and we're finding that there is a very long list of innovative people in this area who are happy to share their experiences with others. We're going to use this funding to expand the reach of existing events and to promote the awesome success stories of innovation happening in Chester County and Southeastern PA."
Previous speakers at the Walnut St. Labs Startup Meetup include: George Krautzel, Managing Partner at MissionOG, venture capital firm; Mark Rybarczyk, founder of Vuier; Brandon Hilkert, CTO of Pipeline Deals and recent author of a book of Ruby on Rails; John Fisher, founder of Brandywine Photonics; Michael Raber, Director of Innovation and Artisan Mobile; Andrew Schwabe, Founder of Point.io and more. Video recaps of events are available on the WSL YouTube channel at – www.youtube.com/user/walnutstlabstv
In addition to events, Walnut St. Labs offers co-working space to small companies and individuals starting new business. Co-working companies have access to desk space, conference rooms, whiteboards, and great networking and referral opportunities. Walnut St. Labs also operates a startup incubator.
Managing Partner, Kevin Fleming, said, The collisions that occur from co-working and the events have created chemistry that is bringing people forward who are domain experts looking to solve a problem in their area of expertise."
To learn more about Walnut St. Labs, visit www.walnutstlabs.com.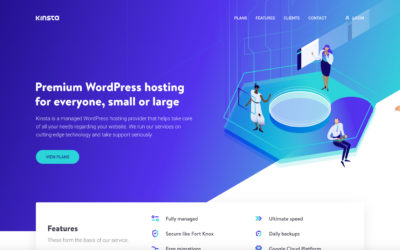 When you're considering WordPress hosting, it's like picking a car rental company at the airport: there are two tiers. Tier 1 is the credible, professional tier. Tier 2 is includes the...
read more